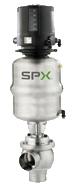 Aseptic Valves MS4/MSP4
MSP4 and MS4 aseptic valves are aseptic single seated valves used in food, beverage, dairy, pharmaceutical and chemical processing lines. The valves are available in different versions: a shut-off valve, a multi-way valve, and a valve for installation in a pipeline or tank as an outlet valve.
FEATURES AND BENEFITS
Innovative fan support mechanism increases the operating pressure range and membrane life.
Flat single-layer membrane is easy to clean and allows immediate leak detection.
Can be operated with line pressures of up to 10 bar (depending on the size).
Withstands high temperatures.
A wide variety of valve body configurations ensure system efficiency.
Simple and inexpensive maintenance im comparison to that of bellow valves provides a lower cost of ownership.
EHEDG certified and meets 3A standards.
«MSP4» diaphragm and shaft material is approved for USP Class VI plastics.
Models meet ATEX directive requirements.
DESIGN OPTIONS
- MS4, MSP4 (with PTFE diaphragm shaft)
- MSR4 (with regulating head)
Tank outlet valves: MST4, MSTP4 (PTFE diaphragm shaft)
APV MSTP4 multi-way valves
Conversion kit for existing DELTA M4/MP4 and DELTA M3 valves can be upgraded to match the APV DELTA MS4/MSP4 valve
In ASCO PUMPS you can not only order and buy aseptic valves ms4/msp4 in Kazakhstan, having received favorable prices + guarantees, but also take advantage of the full range of services, including: Delivery + Installation + Service + Equipment repair.