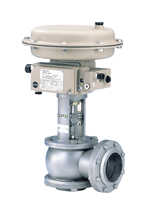 Control Valves RG4/RG4
RG4 valve is designed for constant flow and pressure control. Equipped with positioner and diaphragm control mechanism. Can be used in any industry. For hygienic industries with flexible flow coefficients. For aseptic use, the valve can be equipped with a PTFE diaphragm, a stainless steel siphon or a vapor barrier.
RGE4 modulating hygienic valve is designed for continuous control of medium flows in food industry, beverage industry, chemical and pharmaceutical industries. In its basic design, DELTA RGE4 valve serves as an on/off valve and ensures a favorable flow of the medium. Features and advantages of this valve are similar to APV RG4 modulating valve.
FEATURES AND BENEFITS
Approved to 3A standards.
Models meeting ATEX directives available.
Identifiable packing seals tightly seal openings and facilitate the process of ordering replacement parts.
Flexible design. It is possible to change the shaft and seat to change the KP values (fully modular system).
Simple valve maintenance. Valve insert can be removed.
Valve design and testing according to DIN IEC 534.
In ASCO PUMPS you can not only order and buy control valves rg4/rg4 in Kazakhstan, having received favorable prices + guarantees, but also take advantage of the full range of services, including: Delivery + Installation + Service + Equipment repair.