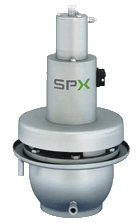 Vaccum Valve VRA/VRAH
Vacuum valves VRA and VRAH are used in brewing, beverage and dairy industries to protect tanks and reservoirs from vacuum. A non-contact limit switch can be installed on the valve seat lift actuator to communicate valve position information. Switch indicates a fully open position, which is necessary when cleaning the valve and to check its operation.
FEATURES AND BENEFITS
Accurate signal response
Sealed, gas-tight construction
Pneumatic valve seat lift for remote control is maintenance-free.
Spherical housing ensures optimal cleaning.
There is no shaft guide in the grocery chamber.
Cleaning the inside of the housing with a special spray nozzle
Liquid does not drip or splash during washing thanks to the drain pan.
Safe operation is ensured by:
- Metal valve shaft
- Elastomer valve seat seal
- PTFE sleeve bearings
Internal coating: ground, surface quality Ra less than 1.6 µm. External coating: glass blasting
DESIGN OPTIONS
«DELTA» series vacuum valves can be supplied as:
suspended models - VRAH
VRA models - with a top head
OPTIONS
End position of the valve is determined using 2 proximity switches.


In ASCO PUMPS you can not only order and buy vaccum valve vra/vrah in Kazakhstan, having received favorable prices + guarantees, but also take advantage of the full range of services, including: Delivery + Installation + Service + Equipment repair.