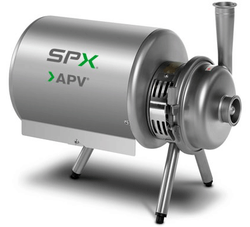 W+ Series Centrifugal Pumps
Energy-saving sanitary centrifugal pumps of W+ series with increased reliability and a high level of hygienic performance. The pump series consists of 17 standard models.
W+ series centrifugal pumps are ideal for standard use in brewing, non-alcoholic, food and dairy industries. Pump range covers the needs of hygiene industry, chemical and pharmaceutical industries.
Features and Benefits of W+ Series Pumps:
Reliable and durable construction
Energy-efficient
Quiet operation with minimal vibration
Superior shaft seal design
High pressure capability
EHEDG, 3-A (optional) certification
Designed for CIP (Cleaning In Place) and SIP (Sterilization In Place) systems
Suitable for a wide range of pumped products
A wide range of additional options (for example, double mechanical shaft seal, heating jacket, etc.)
Simple and economical maintenance
W+ PUMP DESIGN OPTIONS
Whp+ Series High-Pressure Pumps
The pumps are designed for system pressures of up to 60 bar. Robust design of Whp+ pump increases stability and reduces vibration.
Wi+ Supercharged Pumps
Wi+ is a variant of the W+ pump that includes a modified housing and an inductor instead of the impeller nut. This allows the pump to reduce NPSH requirements by 50–70% while maintaining the same pump curve as the corresponding W+ pump.
Ws+ Self-Priming Pumps
Self-priming pumps designed for pumping liquid media using air and foam. They are characterized by low power consumption and low noise level.
Video Presentation of W+ Pumps
In ASCO PUMPS you can not only order and buy w+ series centrifugal pumps in Kazakhstan, having received favorable prices + guarantees, but also take advantage of the full range of services, including: Delivery + Installation + Service + Equipment repair.