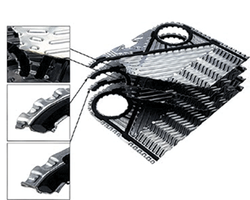 DuoSafety Plates
DuoSafety is an early warning system designed to detect leaks early and allow the end user to take precautions against mixing fluids. Plates are stamped from two sheets of steel foil in one press pass. Lower thermal performance.
DuoSafety Technical Specifications
Plate type

Description

Material

Temperature (°C)

Pressure (bar)

Heat exchange area

Service access

Plates

Gaskets

DuoSafety

Double plate used to completely prevent mixing of heat transfer fluids.

AISI 316, titanium & other alloys

NBR, EPDM, FKM

-35° to 180°

0-16

up to 650 m2

Full access for cleaning and inspection.
Advantages of using APV DuoSafety Double Plates
There are several advantages to using the APV DuoSafety Dual Plate Heat Exchanger:
100% visual inspection possible
APV DuoSafety double plate can be removed for cleaning and inspection
Different materials can be combined in one pair, e.g. stainless steel/titanium or hastelloy **/titanium
Two gasket materials can be combined, e.g. EPDM/Nitrile
Early warning system for increased safety against mixing liquids
Completely without welds
In ASCO PUMPS you can not only order and buy duosafety plates in Kazakhstan, having received favorable prices + guarantees, but also take advantage of the full range of services, including: Delivery + Installation + Service + Equipment repair.