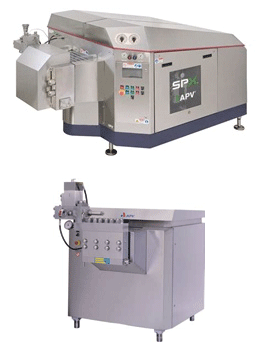 Homogenizers Rannie/Gaulin
Homogenizers are usually needed to maximize homogenization efficiency. Homogenizer is a large high pressure pump with back pressure device. Homogenizer consists of a positive displacement pump and a homogenizing valve assembly tailored to the specific application. The pump pumps product under pressure through a small, adjustable gap between the valve seat and the valve, causing turbulence and intense mixing.
Advantages of Ranni/Gaulin homogenizers
Low maintenance and technical support costs
soundproof chamber
Environmentally friendly design
Ease of maintenance
Easy of operation
Low cost of spare parts
Reduced downtime during maintenance and technical support
operational flexibility
Options include a range of homogenized valves and materials, as well as soundproofed cabinets to reduce noise in higher capacity models.
Application of Ranni/Gaulin homogenizers
Dairy products: milk, desserts, ice-cream, sour cream, cream, cheese, yogurt, condensed milk.
Food and beverage: fat substitutes, baby food, condiments, vegetable juices, liqueurs, tomato pastes and ketchups, peanut butter, reduced fat foods, spices, infant formula, fruit juices, fruit concentrates, sauces, egg-based products, food additives.
Presentation of Rannie/Gaulin homogenizers
In ASCO PUMPS you can not only order and buy homogenizers rannie/gaulin in Kazakhstan, having received favorable prices + guarantees, but also take advantage of the full range of services, including: Delivery + Installation + Service + Equipment repair.