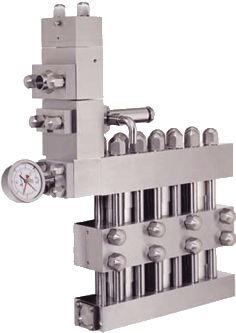 Valve Housing RANNIE
Modular design consisting of a three-piece valve body and individual cylinders (3 or 5). Three blocks around the pump valves have a very simple and user-friendly design, which provides very high pressures together with individual cylinders.
Rannie three-piece, hydraulically actuated cylinder block is a prime example of superior engineering and is equally well suited for sterile applications as well as other industrial applications. Its design allows pressure separation of suction and discharge lines, which reduces the possibility of rupture or cracking in presence of unfavorable operating conditions or when operating pressure exceeds 600 bar. Rannie homogenizer is well suited for high pressure or heavy duty applications. There is also a sterile design proposed for this device. Rannie homogenizers can use both ball and poppet valves, which does not affect their flow capacity.
FEATURES
Available with stainless steel or stellite poppet or ball valve
Hygienic design
Spring loaded intake valves
Service-friendly
- valves can be easily repaired or replaced
- reversible pump valve seats, easy to repair and replace
ADVANTAGES
Low prices for spare parts
Low operating costs
Reduced downtime during service/maintenance
Production flexibility
Serviceability
In ASCO PUMPS you can not only order and buy valve housing rannie in Kazakhstan, having received favorable prices + guarantees, but also take advantage of the full range of services, including: Delivery + Installation + Service + Equipment repair.