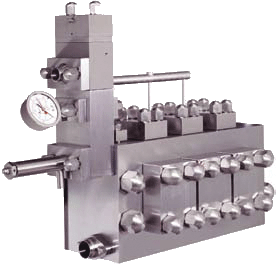 Monoblock Valve Body GAULIN
Integrated design of cylinders (3 or 5), pump valves, plunger lubrication and inlet/outlet in one unit. Plunger seals and pump valves are accessible through the front and top covers.
Gaulin sanitary cylinder block provides linear flow and minimizes seals. Top and front covers improve accessibility and ease maintenance.
Poppet valves for low viscosity, moderately abrasive products such as ice cream and dairy mixes, vegetable oils and silicone emulsions.
Ball valves designed for high viscosity, abrasive products including peanut butter, condensed milk, wax emulsions, lubricants and pigments. Designed for aseptic processing, double-sealed aseptic cylinders also contain contaminants (compounds that are pathogenic, toxic and radioactively flammable).
FEATURES
Available with stainless steel or stellite poppet or ball valve
Hygienic design
Stellite pump valve seats
Spring loaded intake valves
Service-friendly
- pump valve seats can be repaired or replaced
- valves can be easily repaired or replaced
- plunger packings are easy to replace
ADVANTAGES
Low prices for spare parts
Low operating costs
Reduced downtime during service/maintenance
Production flexibility
Serviceability
In ASCO PUMPS you can not only order and buy monoblock valve body gaulin in Kazakhstan, having received favorable prices + guarantees, but also take advantage of the full range of services, including: Delivery + Installation + Service + Equipment repair.