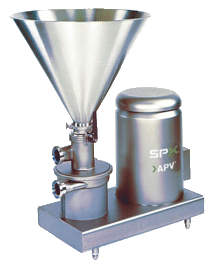 Flex-Mix™ ТРМ
Flex-Mix™ ТРМ is a mixer used for mixing powders and liquids in the production of dairy products, sugar syrups, brines, etc.
Advantages
Easy to maintain - shaft seals are easy to replace
Robust design thanks to robust construction
Hygienic design for CIP cleaning
Reduced maintenance costs in the event of using other APV pumps
Shaft seals are identical to those used in the W +/WS pumps
Operating Principle
Structurally, the mixer is a blower with a centrifugal pump. It consists of a mixer/pump housing on which the blower pipe is coaxially integrated into the pump inlet. In a double inlet, liquid is added to the outside of the inlet and powder is added in the center. Above the mixer there is a hopper for the powder product, which is connected to the blower tube. A flap is installed between the funnel and the mixer, which regulates the amount of powder. During production, the liquid is pumped by the agitator screw, which creates a central vacuum in the blower tube, which sucks in the powder. The products are mixed in the mixer body. In addition to pump pressure, the agitator screw also creates turbulence and high shear forces in the mixture, ensuring efficient and homogeneous mixing. Products with high viscosity (over 500 cp) may require a booster pump to feed the mixer.
In ASCO PUMPS you can not only order and buy flex-mix™ трм mixer in Kazakhstan, having received favorable prices + guarantees, but also take advantage of the full range of services, including: Delivery + Installation + Service + Equipment repair.