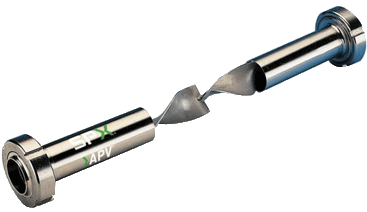 Flex-Mix™ TРХ
TPX Static Inline Mixer is used for continuous mixing of various combinations of liquids, gases and particles. The mixer is also well suited for maintaining the same mixing temperature, for example through direct steam feed. The static mixer can be used for pre-mix and post-mix. It can be used for mixing dairy products such as cream and milk before standardization, starter culture and milk, fatty and recombined milk.
FEATURES AND BENEFITS
Contains four screw mixing elements. If more mixing elements are needed, more mixers will be connected consequently.
Hygienic design: standard or 3A for CIP
Inlet/outlet fittings meet DS/ISO, DIN and Clamp 3 standards
TPX static mixer is characterized by low energy consumption
Operating Principle
TPX mixer is a built-in mixer that has no moving parts. Static mixing element in the mixer body provides separation, distribution, rotation of liquids so that they are properly mixed. This happens with minimal pressure loss. Fluid flow is provided by a pump or gravity. Mixing elements are alternately rotated 180&deg to the left and right and are located at an angle of 90&deg to each other. Mixing takes place either in laminar or turbulent flow. For high viscosity products, the goal includes laminar flow, while mixing low viscosity products assumes turbulent flow. For products with low viscosity and turbulent flow, four mixing elements will be sufficient to ensure a homogeneous mixture.
In ASCO PUMPS you can not only order and buy flex-mix™ tpx static inline mixer in Kazakhstan, having received favorable prices + guarantees, but also take advantage of the full range of services, including: Delivery + Installation + Service + Equipment repair.