Pumps of this series have a simple and reliable design, and such pumps are easy to install. The pump casing can be made of aluminum or stainless steel. The pumps are used for pumping viscous and non-viscous liquids, liquids containing solid or abrasive particles. All pumps of the metal series can be manufactured in accordance with ATEX requirements.
TM3 series pumps combine high quality materials, efficient performance and a competitive price, making it the ideal pump for today's industry.
Advantages of TECNO-MATIC metal pumps
Low noise level
Suitable for pumping abrasive liquids
Low consumption of compressed air
Dry run capability
Low maintenance and parts costs
Bolted construction (SST) eliminates leakage
No leaks when liquid is cut off
Models available for use in hazardous areas
Air motor is located in the center of the housing
Air motor does not jam, freeze and does not require lubrication
Inlet/outlet pipes can be turned 180 degrees
Air valve elements are made of ceramic and do not require maintenance
Design of TECNO-MATIC metal pumps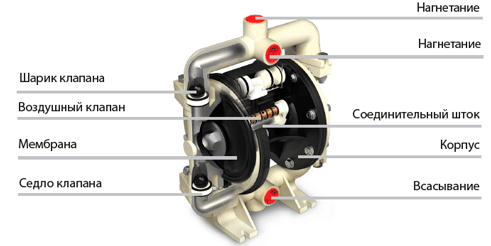 3D image of the TM3-530 series pump
Pneumatic industrial diaphragm pumps for standard operating conditions are one of the most demanded series on the market. They are manufactured with a wide range of standard sizes (1/4" – 3") and are used to solve problems of transportation of general-purpose liquids, such as clean water, process water, slightly aggressive liquids, liquids with a moderate content of small inclusions, oil products, etc. They are often used in ceramic, chemical and paint and varnish industries, as well as in the field of water disposal and housing and public utilities.
5

reasons to buy industrial diaphragm pumps at Asco Pumps
All production processes are certified according to UNI EN ISO 9001/2008 standards.
We offer reliable solutions tailored to application, operational needs and capabilities of each customer.
All equipment is manufactured in our own factories.
Each pump we sell is thoroughly tested in our factory before being sent to the customer. Our specialists send the equipment to the customer only after being 100% convinced of its integrity and operability. Therefore, you can be sure that the pump will last you a long time.
Preliminary design work with subsequent installation is required for a certain part of our products. Our technical specialists will conduct preliminary consultations and carry out installation after delivery of the equipment to your enterprise. Therefore, we provide a service guarantee.
In ASCO PUMPS you can not only order and buy tecno-matic diaphragm metal pumps in Kazakhstan, having received favorable prices + guarantees, but also take advantage of the full range of services, including: Delivery + Installation + Service + Equipment repair.