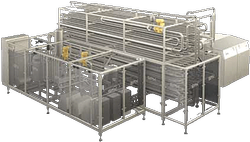 Tubular Heat Exchangers
In some cases, tube-type heat exchangers are used for pasteurization, as well as for sterilization of dairy products. Unlike plate heat exchangers, these heat exchangers do not have connection points in the product channel and therefore can be used to operate with products whose particles are limited to a certain size. The maximum particle size depends on the pipe diameter. When operating in sterilization mode, a tubular heat exchanger has to be stopped less often for cleaning than a plate heat exchanger. In terms of heat transfer, a tubular heat exchanger is less efficient than a plate heat exchanger.
APV has developed a new series of tubular heat exchangers - Product-to-Product (P2P). This latest heat transfer solution has the highest hygiene standards and offers improved heat transfer efficiency compared to a traditional tubular heat exchanger: reduced energy consumption, reduced size and capital investment.
Design of the new module does not require a secondary heating/cooling water circuit, which reduces the associated heat transfer and pump energy losses. It also provides a better flow pattern on the secondary THE side than traditional solutions to improve heat transfer efficiency and reduce process energy consumption.
FEATURES AND BENEFITS
Tubular heat exchangers are designed for gentle handling of products of low to medium viscosity and products containing particles. They are widely used in food and beverage industry for heating, cooling, pasteurization, UHT, heat recovery and other heat transfer processes.
Proven ease of cleaning
Compact design
Less processing equipment
Fast maintenance
Improved technical characteristics
Absence of joints and gaps eliminates the retention of dirt and the appearance of bacteria
Improved flow structure - better cleanability and heat transfer
Products meet quality standards:
PED (Pressure Equipment Requirements)
EHEDG (global certification pending)
Application
Food and beverage industry processes products with particles, products that are sensitive to shearing (changes in product texture), and products with high viscosities, such as juices with pulp, sauces and soups, dairy products (milk and yoghurts), purees and concentrated juices , desserts.
In ASCO PUMPS you can not only order and buy tubular heat exchangers in Kazakhstan, having received favorable prices + guarantees, but also take advantage of the full range of services, including: Delivery + Installation + Service + Equipment repair.