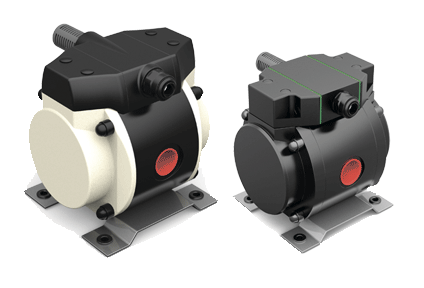 High-Speed Diaphragm Pumps
High speed diaphragm pumps of the 3rd generation.
New TM1 series diaphragm pumps are designed for high performance and long service life. 70% less flow ripple compared to traditional air operated diaphragm pumps. They operate much quieter. Air consumption is 35% less and requires 3-5 times less maintenance. Compact dimensions make installation quick and easy. The pump's design allows it to be disassembled without dismantling from the pipeline system, which significantly reduces the time required for maintenance. All of these characteristics ultimately contribute to a significant reduction in pump maintenance costs and lower costs of spare parts.
Benefits of third generation pumps:
reliability (does not jam);
low noise level (78 dB);
low consumption of compressed air;
practically no vibrations;
easy maintenance (few parts);
can run dry without damaging the pump;
sufficient pressure of 0.6 - 0.8 bar to start the pump;
small size (the pumps are small, so little space is required for installation);
can work in any position (vertical/horizontal).
* - pump liquids of higher viscosity compared to diaphragm pumps of standard design
Third generation high-speed pump design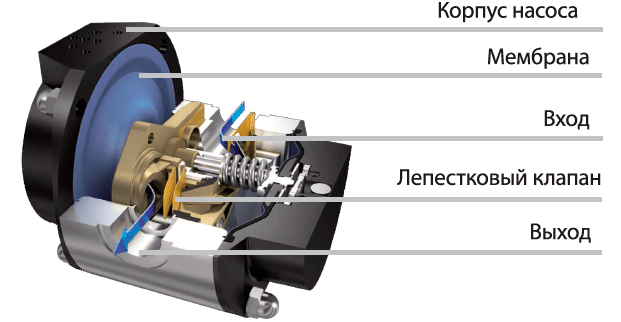 3D image of TM1 series pump - plastic version
5

reasons to buy industrial diaphragm pumps at Asco Pumps
All production processes are certified according to UNI EN ISO 9001/2008 standards.
We offer reliable solutions tailored to application, operational needs and capabilities of each customer.
All equipment is manufactured in our own factories.
Each pump we sell is thoroughly tested in our factory before being sent to the customer. Our specialists send the equipment to the customer only after being 100% convinced of its integrity and operability. Therefore, you can be sure that the pump will last you a long time.
Preliminary design work with subsequent installation is required for a certain part of our products. Our technical specialists will conduct preliminary consultations and carry out installation after delivery of the equipment to your enterprise. Therefore, we provide a service guarantee.
In ASCO PUMPS you can not only order and buy high speed diaphragm pumps of the 3rd generation in Kazakhstan, having received favorable prices + guarantees, but also take advantage of the full range of services, including: Delivery + Installation + Service + Equipment repair.